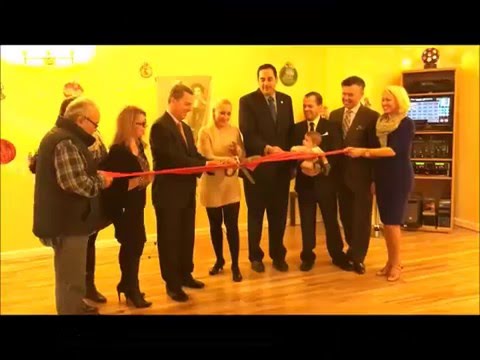 Welcome to Fred Astaire Huntington in Suffolk county Long Island NY. Are you getting ready for an event, are you interested in a new fun hobby, looking for a new form of exercise, or would simply like to spend more time with your loved one? This is the place for you! Get creative, let your mind and body flow and receive numerous benefits for your health from taking ballroom dancing lessons. We believe that anyone can learn how to dance, regardless if you have "two left feet". Therefore we will guide you through the basic elements of dancing to make your first steps easy and fun. From here you can achieve any level you desire, whether it is a social, competitive or show interest. We offer dance instruction in:
Wedding dance (First dance, Father-Daughter, Mother-Son)
Ballroom dances (Waltz, Tango, Foxtrot, Viennese Waltz, Quickstep)
Latin-American ( Cha Cha, Rumba, Paso Doble, Samba, Jive)
Social dances (Salsa, Merengue, Bachata, Hustle, Swing)
Every Friday we host our Practice Parties! Our parties offer a fun, friendly atmosphere on Friday nights from 8:30 p.m. to 9:30 p.m. Our students pop in to practice their dancing in a social setting, enjoying upbeat and modern music. We mix and mingle and help our students become better dancers and more well-rounded people. Read more here.
Our Long Island dance studio is located near Melville, Northport, Woodbury, Syosset, Greenlawn, Cold Spring Harbor, Laurel Hollow, Plainview, Old Bethpage, Farmingdale, Deer Park, and Commack. We are happy to dance with anyone traveling abroad. We are very excited to see you for your first dance lesson and make this experience a unique one.
History of Fred Astaire Dance Studios
Today, one almost can't turn on the TV or radio, or open a newspaper, magazine, or web page without hearing a mention of Mr. Fred Astaire in reference to dancing. He has left a lasting impact on the world and when people think of a dancing legend, Fred Astaire is the first to come to mind. We are proud of our great dance heritage which began in 1947 when the Master of dance himself, Mr. Fred Astaire, co-founded our company. Mr. Fred Astaire, considered to be the greatest multitalented dancer of all time, wanted to establish a chain of studios under his name to make sure that his techniques would be preserved and passed onto the public.
Mr. Astaire was instrumental in the choice of dance curriculum and instructional techniques. With the opening of the first Fred Astaire Studio on Park Avenue in New York City, Fred Astaire brought his immense talent out of the glamour of Hollywood and onto the dance floors of America and the world. "Some people seem to think that good dancers are born." Astaire once observed. "All the good dancers I've known have been taught or trained. To me, dancing has always been fun. I enjoy every minute of it. I am glad that I can now put my knowledge to use in bringing personal confidence and a feeling of achievement to so many people."
Today, numerous Fred Astaire Franchised Dance Studios located in cities throughout North America and internationally, are required to maintain the highest standards of excellence through our National Dance Board and Fred Astaire Franchised Dance Studios curriculum certification. Although Mr. Astaire is no longer with us in person, our studios have produced a wealth of amateur and professional dancers who are the living embodiment of his style and grace.
Hours of Operations:
Tuesday - Friday: 1:00 pm - 10:00 pm Saturday: 10:00 am - 6:00 pm
132 West Jericho Turnpike Huntington Station, NY 11746
631-532-6979

---
FREE WEDDING CONSULTATION FOR YOUR FIRST DANCE. CALL 631-532-6979 TO SCHEDULE*
We will discuss with you everything regarding your most special First Dance and
offer you a FREE 30-minute private lesson
with an Astaire certified dance instructor. Bring along the song you selected for your First Dance. (*For new customers only. Cannot be combined with an Introductory Special or other promotional offers)
---