Staff
Owners: Vera and Vladimir Kosarev
          Owners: Vera and Vladimir Kosarev
TWO TIME WORLD MASTERS SMOOTH CHAMPIONS
UNITED STATES NATIONAL NINE DANCE FINALISTS
FRED ASTAIRE WORLD CHAMPIONS
TWO TIME NATIONAL FRED ASTAIRE CHAMPIONS
Vera and Vladimir, both from Russia, met in Rochester, New York in 2001.   A studio showcase was approaching, and neither one of their partners was available to dance, leaving them no choice but to dance with each other.  This twist of fate led them to a professional partnership that inevitably led to love, and in 2007 Vera & Vladimir tied the knot.  Their love of dance and love for each other is evident every time they step onto the dance floor.  As a result, this has earned them many accolades in their professional career.
Vera and Vladimir are TWO TIME WORLD MASTERS SMOOTH CHAMPIONS, US NATIONAL NINE DANCE FINALISTS (Smooth and Rhythm Combined), Fred ASTAIRE WORLD CHAMPIONS and TWO TIME NATIONAL FRED ASTAIRE CHAMPIONS. 
They have also been included in many finals such as:  Capital Dancesport Championship, Embassy Ball Dancesport Championship, Emerald Ball Dancesport Championship, Heritage Classic, Manhattan Dancesport Championship, and the United States National Championships.
In addition, they have accumulated numerous Top Teacher awards from the Fred Astaire Organization.  Vladimir has also won countless Pro/Am Titles around the country with his students incredible and hard working students, including National and World Championships.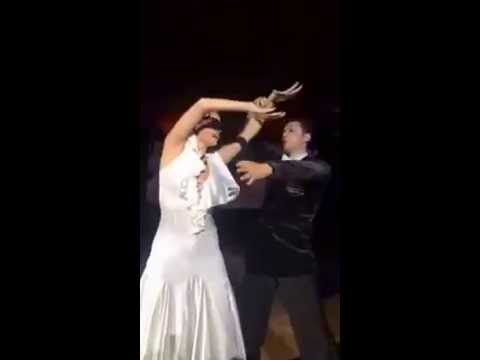 Jason Houston
Two Time Florida Fred Astaire Regional Finalist
Birmingham Fred Astaire Regional Runner Up
 Top Teacher winner 2012
University of Miami Ballroom Team performer, instructor, choreographer, treasurer and Spokesperson.
Performed over twenty five original routines which won Excellence in performance two years in a row
Dancing with the UMiami Stars Finalist with his Star
Vincent & Elizabeth – Dance Instructors
Vincent began his dancing at the age of 14 in musical theatre and show choirs.  This led him to a career in in ballroom dancing.  He fell in love with it and started competing in ballroom dance in 2007.  He coached at both Ithaca College and Cornell University.  In 2014,  Vince began working at The Fred Astaire in Buffalo, New York. There he trained under Anastasia Abrashin, former U.S. 9 dance champion, as well as many other wonderful teachers and coaches.  He has performed at many charitable events, including Utica's 'Dance the Night Away' fundraiser, and loves seeing the joy that dancing brings to brings to so many lives. Notably, he has won multiple top Teacher awards in New York Fred Astaire Region.
Elizabeth began her dance training as a child, where she spent 4 years in tap and jazz prior to taking time off for academics. At a studio in western New York, she went on to perform at countless showcases and competitions. She went on to earn 3 undergraduate degrees before she rediscovered her love of dance and began dancing at Fred Astaire in Buffalo, NY. It was there that she met Vincent, and their chemistry together was undeniable.
Together, Vincent and Elizabeth founded, coached and taught the competitive ballroom dance team at the University at Buffalo, developing outreach programs with Houghton College and Daemen college during their time there. Their team went on to earn numerous awards across the northeast, and Elizabeth and Vincent were finalists at Cornell University, DCDI, Columbia University and Rutgers University.