Welcome to Fred Astaire Dance Studios in Bloomfield Hills, Michigan – whether you want to learn Ballroom Dance or you're interested in Latin, Swing, Country, Salsa, Tango or a any other popular dances, we make it fun & easy for men and women of all ages to learn to dance!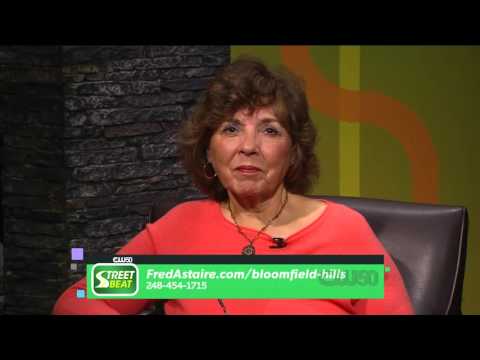 You will feel right at home in our friendly & relaxed atmosphere. We love to introduce beginners to the joys of dance or explore the subtleties of technique with the advanced dancers.
We offer private lessons, group classes, private group classes, wedding preparation, practice parties and more.
Whether you're interested in social dancing, competitive dancing, performing or having a special dance choreographed for your wedding, or just want to dance for sport, as exercise or just recreation, our qualified, nationally certified instructors will help you reach your goals while ensuring that you have plenty of fun along the way!
We live each day by our mission statement:
To enrich the lives of anyone and everyone who is associated with us.
Dance is in the mainstream and you don't want to miss out on all the fun, good exercise and excitement dance can bring!
Listen to our owner Evan Mountain talk about dance on WDET, the Craig Fahle show from Nov 25, 2013:
Call us today at 248-454-1715 and get started.
* Check out our latest News feature in the Detroit Free Press: *
January 2, 2016 by Kristen Jordan Shamus, Detroit Free Press
When Patty Levison's husband died in April 2014, the grief was overwhelming.
"It felt like we were always soul mates," said Levison, an interior and landscape designer from Bloomfield Hills.
The two had met when Robert Levison was 44, dated for 22 years, were married for 22 years; he died on his 88th birthday.
"Toward the end, he said, 'It's time for us to say good-bye. How do we say good-bye?' … And I said, 'We say good-bye with a kiss.' A couple days later, he passed away."…Read More.
History of Fred Astaire Dance Studios
Today, one almost can't turn on the TV or radio or, open a newspaper, magazine, or web page without hearing a mention of Mr. Fred Astaire in reference to dancing. He has left a lasting impact on the world and when people think of a dancing legend, Fred Astaire is the first to come to mind. We are proud of our great dance heritage which began in 1947 when the Master of dance himself, Mr. Fred Astaire, co-founded our company. Mr. Fred Astaire, considered to be the greatest multitalented dancer of all time, wanted to establish a chain of studios under his name to make sure that his techniques would be preserved and passed onto the public. Mr. Astaire was instrumental in the choice of dance curriculum and instructional techniques. With the opening of the first Fred Astaire Studio on Park Avenue in New York City, Fred Astaire brought his immense talent out of the glamour of Hollywood and onto the dance floors of America and the world. "Some people seem to think that good dancers are born." Astaire once observed. "All the good dancers I've known have been taught or trained. To me, dancing has always been fun. I enjoy every minute of it. I am glad that I can now put my knowledge to use in bringing personal confidence and a feeling of achievement to so many people." Today, numerous Fred Astaire Franchised Dance Studios located in cities throughout North America and internationally, are required to maintain the highest standards of excellence through our National Dance Board and Fred Astaire Franchised Dance Studios curriculum certification. Although Mr. Astaire is no longer with us in person, our studios have produced a wealth of amateur and professional dancers who are living embodiments of his style and grace.
Try Our Introductory Special!