About
Welcome to Fred Astaire Dance Studios in Bloomfield Hills, Michigan – whether you want to learn Ballroom Dance or you're interested in Latin, Swing, Country, Salsa, Tango or a any other popular dances, we make it fun & easy for men and women of all ages to learn to dance!
You will feel right at home in our friendly & relaxed atmosphere. We love to introduce beginners to the joys of dance or explore the subtleties of technique with the advanced dancers.
We offer private lessons, group classes, private group classes, wedding preparation, practice parties and more.
Whether you're interested in social dancing, competitive dancing, performing or having a special dance choreographed for your wedding, or just want to dance for sport, as exercise or just recreation, our qualified, nationally certified instructors will help you reach your goals while ensuring that you have plenty of fun along the way!
We live each day by our mission statement: To enrich the lives of anyone and everyone who is associated with us.
Dance is in the mainstream and you don't want to miss out on all the fun, good exercise and excitement dance can bring!
Listen to our owner Evan Mountain talk about dance on WDET, the Craig Fahle show from Nov 25, 2013:
…
At Fred Astaire Bloomfield Hills, we believe everyone has the ability to experience the joy of dancing. This philosophy led to the establishment of Dance Mobility; Michigan's only wheelchair and amputee ballroom dancing program for adults and children with physical disabilities. Our Dance Mobility program provides free monthly wheelchair and amputee ballroom group lessons, led by Fred Astaire's professional, certified dance instructors with experience in teaching wheelchair and amputee ballroom dancing.  Participants are welcome to bring their own dance partner or they will be paired with a partner. From Waltz to Tango to Salsa, we offer all styles of dance lessons in a fun, friendly, supportive environment, while promoting physical, social, and emotional well-being. Private lessons are also available for a fee.  Dance Mobility's free group lessons are supported by a grant from the Rehabilitation Institute of Michigan Foundation. For more information, call 248-454-1715.
…
* Check out our latest News feature in the Detroit Free Press: *
Couple shares activity they believe is secret to healthy marriage
March 7, 2016 – By Sandra Ali – Anchor/Reporter
Fred Astaire Dance Studio of Bloomfield Hill's very own Tom and Michaela Hector show the power of ballroom dancing when it comes to keeping the romance alive in any marriage!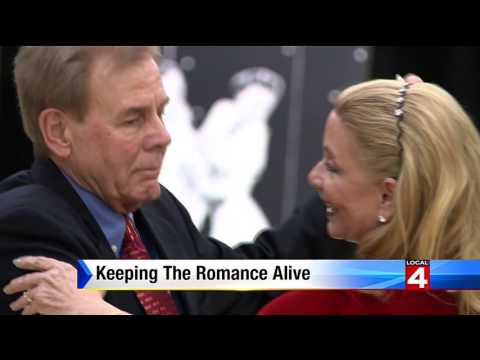 About Fred Astaire Dance Studios
Great Beginnings
Our company began when Mr. Fred Astaire co-founded a chain of dance studios under his name, to make sure that his dance techniques could be preserved and passed onto the public… and on March 7th, 1947, the first Fred Astaire Dance Studio opened, at 487 Park Avenue in New York City. Since then, our network of worldwide dance studios has produced a wealth of amateur and professional dancers, who are the living embodiment of Fred Astaire's style and grace. And since 1947, we have had the honor & privilege of improving the lives of our students, staff and everyone who is associated with our company, through the joy of lifelong dancing!
Ballroom Dance Lessons Should be FUN!
The teaching philosophy at every Fred Astaire Dance studio is simple and straightforward: learning how to ballroom dance is always fun! We work with students of all ages and abilities, and help them realize their ballroom dancing goals in a friendly and inspirational atmosphere. Whether you are interested in wedding dance instruction, are looking for a new hobby or way to connect with your partner, want to improve your social life, or are taking your dancing skills to the next level, Fred Astaire's teaching method will result in faster learning rates and higher levels of achievement – regardless of your physical attributes or comprehension. And at Fred Astaire Dance Studios, you'll always find a warm and welcoming community that will inspire you to reach new heights, feel and look confident, and have fun doing it!
Learn Faster, Achieve More
Our proven dance curriculum includes a tiered program of regularly-scheduled Private Lessons, plus Group Lessons and Practice Parties to ensure that you learn as much as possible, in the shortest amount of time, with the most retention, and the most FUN! Our dance instructors' repertoire covers the full range of ballroom dances – American, Latin, International Style, Ballroom Style, even Exhibition and Theater Arts dances. Created for both social & competitive dancers, our proprietary dance instruction program ensures you'll be on your way to confident dancing by the end of your very first lesson! Click here for more information and to find a Fred Astaire Dance Studio near you.
Track Your Progress
The Fred Astaire Trophy System is an easy way for you to track your progress & stay motivated, while you enjoy dancing. Our Beginner and Social Foundation Programs teach newer students the step patterns and techniques needed to move around the dance floor. Students then move on to Bronze, which will enable you to comfortably and confidently dance on any sized dance floor, to any music, with any partner. From there, you can hone your skills and talents within the Silver level, and then all the way to the Gold!
Our Talented Dance Instructors
Fred Astaire Dance Studio instructors are gifted dance educators who hail from all over the world. Many have Fine Arts degrees and are actively-competing, award-winning professional dancers. Our dance instructors complete the rigorous work required to become certified in the Fred Astaire Curriculum, a teaching method that not only teaches the mechanics of partner dancing, but also presents the building blocks of how people ABSORB and RETAIN information. This program ensures a consistent, high-level of dance instruction because it teaches in a way that people naturally learn! Our proprietary dance curriculum is also continuously reviewed by world-famous former dance champions and registered judges on the Fred Astaire National Dance Board, to ensure only the finest, most up-to-date programs for our students.
Exciting Events & Dance Competitions
Fred Astaire Dance Studios offer a variety of fun local events to make your dance experience exciting and rewarding! Guest Parties, Showcases, Spotlights, Community Outreach Events, special Coaching Sessions and off-site Group Outings encourage social interaction and help you apply what you're learning. And our branded Regional, National and International Pro-Am and Professional Dance Competitions give you inspiring opportunities to compete, travel and hone your dancing skills in supportive and exciting environments.
Fred Astaire Dance Store
Each Fred Astaire Franchised Dance Studio features an in-studio and online Dance Store, where you can purchase branded products (such as dance shoes, practice wear and more) to keep you looking and feeling your best, on and off the dance floor.
Get Started Today, with a Fred Astaire Dance Studio Intro Offer!
Take advantage of the special introductory offer at your local Fred Astaire Dance Studio, and take the first step towards realizing your ballroom dance goals! Click here to find a location near you – and we'll look forward to seeing you on the dance floor.